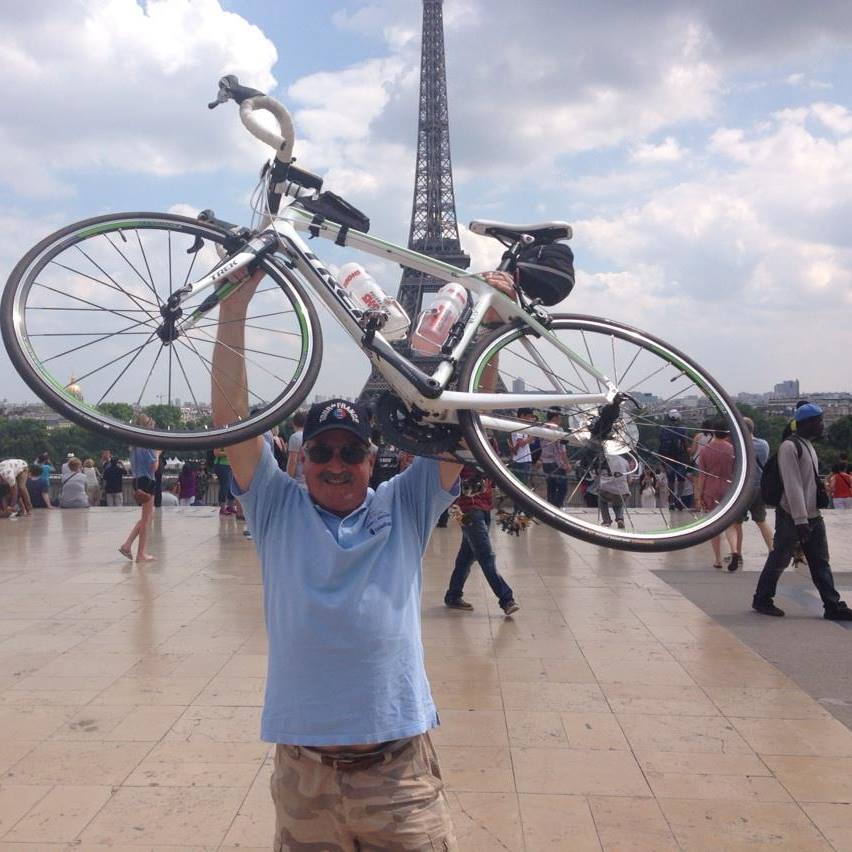 Read Rob's blog from the Normandy Challenge

The Normandy Challenge
18-19 July 2014. Days 1 and 2 Normandy Challenge

This is my 7th Challenge with Ride2Recovery, but my first European Challenge.  Every year, for the last 4 years, Ride2Recovery has had a European Challenge, whereby allowing our young men and women in the Military to cycle throughout Europe and allow them to visit all the historical sites from World War II.  This is Ride2Recovery's second sojourn in Normandy, with 2014 being the 70th Anniversary of D-Day which happened on June 6, 1944.  But what makes this Challenge so different from those in the States is that there is no USO Canteen serving lunches, there are no American Legion Hall hosting dinners.  Riders are given the opportunity to enjoy lunch at a local restaurant, somewhere on the route and dinners at host hotels, prepared by the French locals.  Like all Challenges, there is a travel day, which brought us to Paris after an all night plane ride.  We gathered our belongs and were bussed to Caen, our host city for 2 nights.
Upon arriving at our hotel, the parking lot was loaded with cardboard bike boxes, which riders were required to ship, because of the cumbersome ness of large bike cases that would have taken up too much room in trucks and hotels.  The Ride2Recovery mechanics were helping some of the riders put their bikes together, in order to have a predinner ride.  I headed out with John Wordin, President of Ride2Recovery and his assistant and Women's Initiative Director Sara Bell and some other staff members.  John has been to Caen before, which is always the starting point of the Normandy cycling adventure.  Caen was liberated by the Canadian Military in July of 1944.  John was able to tell and show us all the history he knew of Caen, but dinner was at 7:00 and being a travel day for most, lights were out early as Day 1 of the ride which includes the American Cemetery and Memorial which overlooks Omaha Beach, the beach where the D-Day invasion began.
Busses took the riders and staff to the Le Memorial on Saturday, where Ride2Recovery had a private opening, where 2 special flag raisings took place.  Riders were Pre selected by John and I was called on to assist a triple amputee, Tim Brown.  I'm sure most have seen images of the large white crosses and Stars of David of the 3900+ americans who lost their lives in World War II, but to be part of a flag raising in Normandy was pretty surreal.  Afterwards we had a couple of hours to visit the various installations and Memorials throughout the cemetery in Colleville-sur-Mer.  One of the recommendations of our visit was to bring a plastic bag to fill with the sand of Omaha Beach.  My bag was filled with sand, as well as some small stones and beautiful wild flowers that were all over the beach.  Afterwards we walked to the cemetery and visited the grave of Theodore Roosevelt Jr., son of President Theodore Roosevelt, later there was a special wreath laying ceremony for Uncle Willie, friend of Ride2Recovery and Uncle of popular actor Joe Mantegna.  Following our visit at the cemetery, we were bussed to Arromanches, site of Operation Mulberry, the port built by the British with heavy caissons and connecting bridges which allowed the Military to unload their ships in deep water with tanks and other heavy Military vehicles and equipment needed to fight Adolph Hitler on all fronts.   Lunch consisted of wonderful ham and cheese sandwiches on delicious, fresh French bread and chips.  Before we left Arromanches, we were treated to a 15 minute film of old World War II footage of the D-Day invasion, in their 360 degree theater, somewhat like Disney.  Dinner was back at the hotel again, and lights out.

Sunday started with a delicious French breakfast of ham, Brie, strong coffee and crescent.  Today will be an 88 kilometer or 54 mile ride from Caen to Carentan.  We left in one large group for the Le Memorial, Caen's monument for their liberation, which include many French Military, some in Foreign Legion attire. We have 10 or so riders from the German Military riding with us this week and they hoisted the first flag.  The American flag was raised next, followed by the French flag.  Gifts were exchanged and then we posed for a group picture and headed out.  Skies were overcast and a light rain shower greeted us as we made our way to Omaha Beach.  We then split up in groups and I left with Bravo, hosted and led  by John Wordin.  The French countryside was the perfect setting, as we made our way through little towns.  Occassionally we heard cheers from the French, as we looked sharp in our yellow jerseys.  The contrast of the vintage old stone houses, with beautiful pink and purple hydrangeas, was post card quality.  Being a Sunday, many French were getting ready for church.  Before long, we made it to Longues-sur-Mer battery, which is where Adolph Hitler had a collection of bunkers with 115 caliber guns protruding out of the various bunkers.  Some of the old rusted gun emplacements were pointed up and some were in decrepit condition looking collapsed.  These bunkers allowed the Germans fortified positioning along the English Channel and Atlantic Ocean.  We continued on to Omaha beach, where additional memorials and monuments adorned the beautiful beach.  Next up was Pointe Du Hoc, which was another fortification of bunkers, which the Rangers captured on D-Day. These Rangers from the 2nd Battalion, scaled the cliffs of Pointe Du Hoc and seized the German artillery positions which were hazardous for the Allies landing of Utah and Omaha beaches.  After 2 days of fierce fighting, the 5th Ranger Battalion took control and destroyed the guns and forced the Germans southward.  Pointe Du Hoc was our last stop before a quick ride to our hotel in Carentan.  Dinner was another French gem, a local chicken dish with mushrooms and many sides.  Tomorrow brings on more monuments and stops, as the sun finally came out and brings better conditions for our 2nd day of riding.

20 July, 2014 Day 3 Normandy Challenge

Another day, another opportunity to take in all history that Normandy allows.  The sun is out and the temperatures will be in the 70's for the remainder of the week.  Normally on a Challenges, we ride from city to city, but because of all the history in the northwest of France, we will be staying 4 nights in Carentan and do day rides from our hotel in many directions.  John Wordin has set 10:00 as a start time, which allows the riders to sleep in and enjoy a European breakfast of crescent, cheese, salami, hard boiled eggs and yogurt.  At 10:00 we took off in our groups and headed to Utah Beach, the other famous beach on the west side of Le Pointe Du Hoc.  The winds were blowing out of the Northwest and the pace in Delta is perfect for me and the other riders.  We rode through Carentan south and then crossed a river before heading North.  Utah Beach is one large beach with a massive shoreline.  It was low tide again, as the blue water seemed to be maybe a mile away.  We had an hour to walk the grounds and take pictures.  More monuments to the D-Day invasion were all over, with sculpture and obelisks and a fine museum with complimentary admission.  We then rode our bikes down the coastline before settling in at a couple of lunch stops at Quineville.  The riders took over the restaurants and enjoyed anything from burgers to mussels.
The remainder of the afternoon included more stops at German Bunkers, that seem to be all over Normandy.  Our first stop was at Batterie of Crisbecq, a 21 unit compound of German bunkers, which included bunkers with 21cm canons and sleeping quarters.  This unit commanded a wide part of the Atlantic Wall, and provided the defense against assaults from the 4th infantry  divisions.  Of the original 406 defenders of this Bunker 78 were forced to remain at their post.
An hour later we stopped at the Batterie of Azeville, another compound of Hitler's bunkers.  Spread all over many acres, these underground bunkers were like a little city with tunnels and low ceilings.  We were allowed free entry as we walked down the dark stairs and into the cavern of tunnels and small rooms, where bunk beds were, as well as small dining rooms.  There were pictures on the walls of the spaces we entered, which showed a functioning underground Military camp.
After our 60 minute stop we headed back to the hotel, where another fine  dinner awaited us of lamb kabobs and assorted prepared French vegetable dishes.  Post dinner included conversations and drinking of the delicious wines and beer on the patio of the hotel.  Tomorrow we head out to St. Mere Eglise, the site of the 82nd Airborne landing, another major fighting force of paratroopers putting their lives on the line for freedom, 70 years ago, last month!
21 July. 2014 Day 4 Normandy Challenge

Another great sunny day greeted us as we leave the bunkers behind and now head to the various towns that were occupied by the Nazis.  We have left the Normandy coast and now visit the towns that were greeted by our Paratroopers from both the 82nd and 101st Airborne.  These brave Men were dropped at 1:40 in the morning with 3 objectives, to seize and hold Sainte-Mer-Egise, hold the bridge at Chef Du Pont and hold the bridge at La Fiere.
Today wasn't about the miles, only 35 or so, but to visit these places that had so much significance on D-Day.  Our first stop was at the Le Merderet Bridge at Chef Du Pont, a strategic spot and a stronghold by the Germans.  The German's flooded the fields and tried to hold the Bridge.  A relentless gun battle ensued, before the Americans took control of the bridge, so they could advance their vehicles and tanks.  The Nazis were on the run.
Our next stop was La Fiere, where another battle went on to take control of of the causeway.  Buildings adjacent to La Fiere were taken over by the Nazis before the 1st battalion of the 505th Parachute Infantry Regiment took control.  The buildings are now a Bed and Breakfast and the owner showed us boxes of war artifacts that were collected all over the grounds, including helmets, guns, provisions and personal items.  Before we left we took pics by the Iron Mike statue, which was a slang term for the tough, brave and inspiring soldiers Americans who died liberating the French from the occupation of the Germans.
Before long we entered the quaint village of Sainte-Mer-Eglise.  This was our lunch stop, but before that, the Mayor spoke to us and thanked us for coming and visiting his beautiful town.  The church in the middle of the square was where the paratroopers landed, with one hanging from the church steeple.  If you can remember "Red Buttons" who starred in the movie, "The Longest Day", who pretended to be dead, as his parachute got caught, only waiting for the right time to fire his weapon.
We broke into groups as Andrew, Nathan, Tanner and I found a quaint restaurant as I enjoyed a salad Nicious, while the other guys enjoyed various special pizzas.  Afterwards many of us enjoyed free admission to their wonderful museum where multi media presentations showed the brave work of our armed forces, as they took control of the town.
Our last stop was another small town, Sainte-Marie-Du-Mont and Bell Tower.  This is where 2 German soldiers took over the town's bell tower, only to be thrown out by the Vicar, who wanted to begin a Sunday Mass.  Another bloody battle ensued, while the Americans took control and liberated another town.
Our short ride back to our hotel followed and another delightful dinner was served followed by fellowship with the riders and the arrival of our 10 guest riders from the German Army.  Bottles of Bordeaux were opened as we toasted our guests and thanked them for joining us.
23 July, 2014  Day 5. Normandy Challenge

What a difference a day makes.  Yesterday the sun was shining with temps near 80.  Today brought on heavy clouds with temps near 60, as we made our way to Saint Lo, the site of one of the most bloody fighting campaigns of Normandy.
What also made this ride extremely tough were the hills, which never seemed to go away.  Hill climbing is the hardest part of cycling for me.  Some hills can be a bit steep, but most are long.  Even with proper gearing, tackling a big hill can be problematic, but with support riders in every group, they are there to help by putting one of their hands on your lower back and literally push you up the hill.  Seb, one of the French Army riders who are riding with us this week, had my back yesterday on most of the challenging hills.  Thank you Seb!!
We headed south to Saint Lo, without any water breaks.  The 20+ mile ride got us to Saint  Lo early, so we had an extended lunch break.  Saint Lo, being a big city had plenty of restaurants near their city square.  Nate and I found a brasserie and enjoyed a panini style sandwich although I thought ordered a bowl of soup. 
After lunch I rode my bike around town and saw the many usual monuments that exemplified the fighting and the deaths of the locals at the hands of the Nazis.  It wasn't until July that the 29th Infantry Division arrived in Saint Lo.  It took nearly 3 weeks to liberate the city, with destruction of buildings from heavy bombing from the allies.  This fighting campaign was known as the Battle of Hedgerows, because of the terrain and the cover it gave.
After lunch, we climbed out of Saint Lo, with another long steep hill.
Our next stop was the Memorial at Graignes.  This was a church that was setup as a hospital, to help the local and allied soldiers recover from their wounds.  Without much protection, the Nazis came and killed all the wounded Americans and 44 civilians who were only trying to care for the injured. 
Our ride back to our hotel consisted of even more hills, as I struggled with the last 5-10 miles, but with Seb at my back, I finished, with a climbing total of 2089 feet.
Our last dinner in Carentan consisted of a delicious beef bourgoun, with carrots and a delicious sauce.  The riders called out the chef, who took a bow as we thanked him for all of his delicious dinners.
Tomorrow we head back to Caen, before stopping at La Cambe, the German war cemetery, which has a much darker look than the American cemetery counterpart.

25 July, 2014. Day 6. Normandy Challenge

Today was the last official day of riding for the Normandy Challenge.  Always bittersweet, while packing up our bikes, however, a beautiful day of warm temperatures and a cloudless sky greeted us.  We left in our groups, and were at our first stop at the 20'mile mark, La Cambe, the German War Cemetery.  Somewhat of a contrast with the American Cemetery, with the black crosses and small headstones versus white crosses and Stars of David.  There are over 21,000 German soldiers, sailors and airmen at their final resting place here.  Additionally, there is a 20 foot high mound/tumulus which was established for the 207 unknown dead and 89 who are known by name in a "Kameradengrab"/mass grave.  Our 10 German Army riders laid a wreath at the top of the mound at the base of the basalt lava cross, with 2 side figures.  In addition, there is a beautiful "Peace Garden", with over 1200 maple trees.
After our one hour stop, we rode to Bayeux, the gateway to the Normandy landing beaches.  The Mayor and other local dignitaries greeted us at Musee Memorial, their local Normandy museum.  More speeches and thanks took place before we left for a lunch spot in Bayeax.  Another salad with salmon and a glass of Chardonnay was my standard, but others ordered crepes and omelettes. 
An hour later we were back on our bikes and for our final 15 or so miles as we came back to Caen.  More climbs prevented me from finishing, as I got in a car with less than 3-4 miles remaining.  It was hot and I had nothing left, as I boarded Richard's support van.  Richard cranked up the air conditioning and before long I was comfortable again, as we entered Le Memorial, our last stop for a final flag lowering.  Le Memorial was our first stop on day one, as French, German and American flags were raised in honor of our multi national riding adventure.  Now it was time for them to be lowered, as our 6 day journey concludes.  More speeches were made by the local mayor and other dignitaries, and gold Normandy Challenge Coins were distributed to all the riders.  The ride was officially over.
We returned to our hotel, as the parking lot became the center of packing our bikes for there return home.  I final dinner together in Caen was a poor man's version of steak frites, which left a lot of us hungry.  Andy, Nate and myself found a charming little cafe in Caen later, as we ordered more food and enjoyed a bottle of Burgandy.
Tomorrow we head to Paris, for 3 days of rest, relaxation and sightseeing.  On Monday, most will return home, however, my family will be arriving on Monday, as we extend until the following Saturday.
Thanks for following my blog.  Other blogs can be found on our EvanstonSubaru.com website.

To donate to Ride 2 Recovery, visit https://www.ride2recovery.com/donate.php