Genuine Subaru vs. Aftermarket Parts:
Which is the better value?
When you need collision work, it's tempting to try to save money with aftermarket body parts. But in the long run, how does their value compare to Genuine Subaru Body Parts? To find out, we conducted a series of tests to see how the quality and durability of aftermarket imitations measured up to Genuine Subaru Replacement Body Parts. The results?
According to our tests, it's not even close.
Genuine Subaru parts proved superior to aftermarket parts in every category. Aftermarket parts suffered from imprecise processing and lower rust resistance. Over time, this could make them a costly repair choice. Sheet metal integrity could be compromised, which might lead to the additional expense of replacing a failed replacement part.
Did you know that Subaru vehicles have been tested for NHTSA NCAP* and IIHS** programs? It underlines Subaru's commitment to safety, and it's reassuring news if you're ever in an accident. If you are, Genuine Subaru Body Parts will help reassure you of something else: that your vehicle's safety and body quality will be as good as it was before the accident.
Processing Precision

At first glance, Genuine Subaru Body Parts and aftermarket imitations may appear identical. However, closer inspection can reveal subtle, important differences. Photographed under identical conditions, the fender images below reveal the lesser quality of the aftermarket product, most likely due to imprecise stamping molds used by aftermarket manufacturers.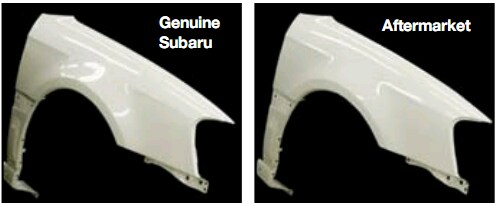 EXTERIOR APPEARANCE
The light reflection reveals subtle differences in shape. The press line of the Genuine Subaru fender is sharp and clearly delineated. The press line of the aftermarket imitation is flatter and less clearly defined.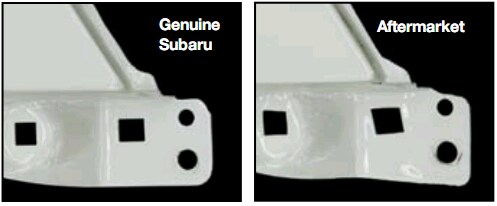 ATTACHMENT ACCURACY
Compared to the Genuine Subaru fender, the attachment holes on the aftermarket imitation are clearly misaligned. Mounting such a fender might cause installers to force a fit, which could cause the fender to bow, bend, or simply not line up.

The Salt and High-Humidity Test

To compare real-world rust-resistance, Subaru engineers reproduced the effects of salt and high humidity on the fenders in a snowfall region* for one year. As the photos show, the layer of zinc galvanization and the thickness of the electrolytically applied paint gave the Genuine Subaru fender the edge.
SCRATCHES
The salt and humidity clearly took a greater toll on the spot where the aftermarket fender was scratched. The Genuine Subaru's zinc galvanization protected it against any rust damage.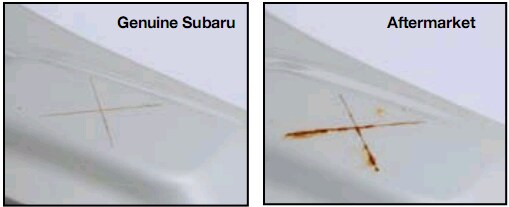 FENDER EDGES AND MOUNTING BOLT HOLES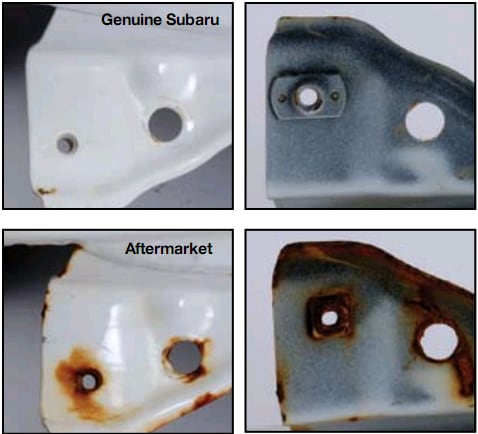 The salt and humidity also caused damage on the aftermarket fender edges and around the mounting bolt holes. The rust is heavier along the edges where the electric deposition coating is thinnest. The Genuine Subaru fender stayed rust-free on the inside and outside surfaces.
* Test included immersing fenders in salt, plus drying and humidifying
Cross Section Comparison

This Genuine Subaru fender
is plated with a layer of zinc galvanization 6-7 microns thick, plus a layer of electrolytically applied paint about 30 microns thick.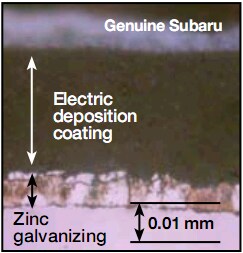 This aftermarket fender
has no layer of zinc galvanization and just a thin layer of electrolytically applied paint – about 15 microns thick.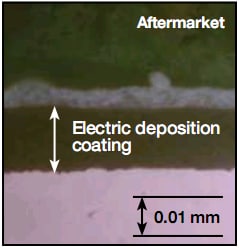 Translation?
With no zinc galvanization, and only half of the electrolytically applied paint layer of the Subaru original, the aftermarket fender provides very little protection against the effects of rust or deterioration.
* A complete testing of the NHTSA (National Highway Transportation Safety Administration) NACP (New Car Acceptance Program) ratings can be found at www.safecar.gov. This information is also available by calling NHTSA's toll-free vehicle safety hotline (888) 327-4236.
** Insurance Institute for Highway Safety www.iihs.org.
For more information on
OEM Subaru Parts warranties
please contact Evanston Subaru located at
3340 Oakton St, Skokie, IL.