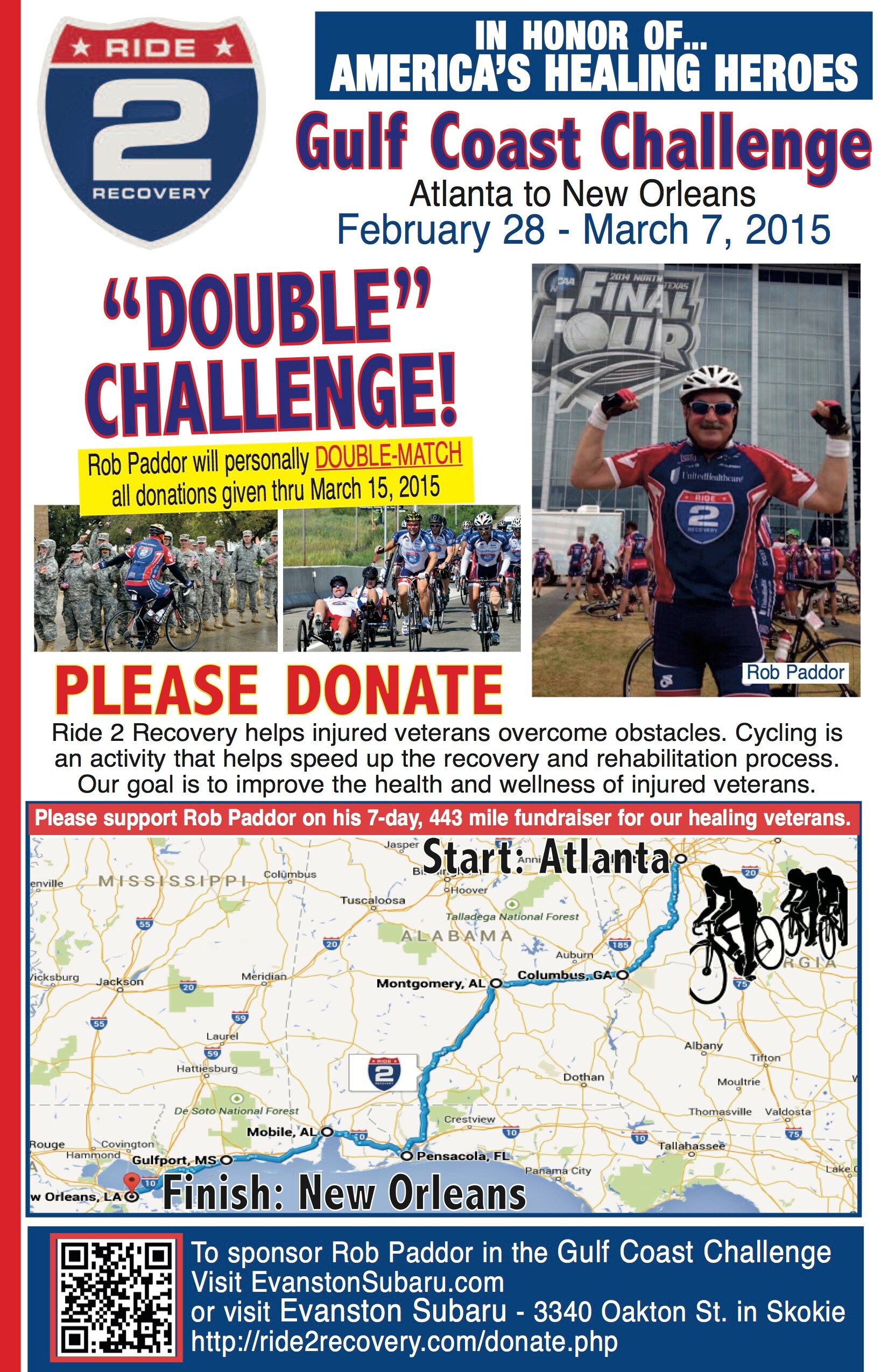 Rob's Blog from the Gulf Coast Challenge 2015

Gulf Coast Challenge, Ride2Recovery, Feb. 27-March 7

This is my 10th Challenge of 45 in Ride2Recovery's 7 year history.  In the meantime, thousands of injured Military continue to go through the cycling program which Ride2Recovery advocates.  Anywhere from  30-50 percent of these riders are first timers.  There has been some turnover of Ride2Recovery's Staff, but from what I see, is that it's only getting better.   These Military, all branches, are working on their emotional and physical injuries of war.  One soldier, Delvin, who is a quadruple amputee, is a legend in the program and now rides an upright bike. It was my first time riding with him and seeing him ride and climb hills is miraculous.

Feb. 27
Typical travel day, with riders showing up in waves, checking in, picking up some Ride2Ricovery cycling wear, going through the health fair and sitting in on a mandatory meeting.  The rules of the road were highlighted and staff introductions followed.  A buffet dinner followed, with John Wordin, President of Ride2Recovery, kidding around with the riders, laughing and sharing stories.

Feb. 28 Day 1
Everybody knew that the weather for the first day of the ride in Atlanta was going to be pretty bad, cold and rain, but that didn't bother anyone at the start.  We all left together, with temps in the high 30's, for a short 1.4 mile ride to the Georgia Statehouse.  The rain started about a mile into the ride.  I never made it to the ceremony, I opted to put my bike in a truck and sit this ride out.  The rain only got heavier, as I watched the riders from my support vehicle, where I was sitting shotgun.  We picked up a couple of riders, before we made it to the rest stop, mile 17.  Everyone gathered in a small convenient store to warm up and decide how many miles more miles they would ride before the 38 mile lunch stop.  I stayed in the truck as we followed the Delta Force cyclers, which I am a member, to the lunch stop where the ride ended.  It was miserable, as buses picked up the wet and tired riders and took us to Ft. Benning, where dinner was ordered in from a local Italian restaurant in Columbus, Georgia.

March 1  Day 2
Monday was more promising, with temps near 50, with an afternoon high of 60 degrees forecast.  Rain was a possibility, but the long 91 mile ride to Montgomery, Alabama was what I was thinking about.  Under dark and heavy clouds, we left the hotel and enjoyed a ride around the Chattahoochee Riverwalk, with the rushing Rapids cutting the city in half.  At the 9 mile mark, we entered Alabama, as I removed my rain jacket, because I was heating up.  The ride got more rural and hilly as we rode to our first rest stop at mile 22.  28 more miles of riding ensued before we entered the Tuskegee Airman National Historic Site, home of the retired African American Military Flying Unit from World War 2.  Lunch was the usual USO canteen, where I wolfed down 2 peanut butter and jelly sandwiches and rehydrated with bottles of Gatoraide.  After lunch, I made it to mile 72, before I knew my day was over, with neck and shoulder pain.  Shortly thereafter, the rain came, but the riders continued to the hotel at mile 91.  30 riders continued their ride by doing circles around the hotel, 36 of them, which would then give these riders a Century, credit for a 100 mile ride, a status I have never achieved.  Dinner was on your own, and I took a couple of friends and staff members out for some seafood in Montgomery.

March 2. Day 3
Today was only a 50 miler, but with rolling hills and monster climbs, it was grueling, as my neck pain began just 10 miles into the ride.  One interesting site was the Hyundai factory plant and training center campus, which covered miles in many directions, which was on our right, as we headed to mile 25 for our only rest stop.  I hydrated and grabbed some snacks, before we took off for the last 25 miles.  The rollers continued with long tiring climbs, but the downhills made it so rewarding, cooling off in the breeze.  At mile 50, I was the last rider to make the turn into our lunch stop at the American Legion Hall in Greenville, AL.  Buses took us to Pensacola, 120 miles away, where Day 4 will begin.  Dinner was at the Pensacola Naval Base, where the historic Lighthouse and Museum from 1859 was the backdrop.  Ride2Recovery's newest sponsor, Geico, hosted a delicious shrimp boil, where a steel drum band played popular melodies.  Tours of the  haunted Lighthouse followed, before buses took us back to our hotel.  Tomorrow is a 77 miler to Mobile, AL.  A warm day is forecast, but we know a cold front is rolling in, and will it jeopardize a delightful ride along the Gulf of Mexico, with no hills!

Gulf Coast Challenge.   Day 4

The weather is warming up a bit and the riders now enjoy less gear, no arm or leg warmers and jackets.  The sun is out and everyone is pumped!  We leave the brand new Springhill Suites and head to Mobile, Alabama, a 76 miler.  Charlie and Delta Force  leave first, with Alpha and Bravo leaving 30 minutes later.  Eventually we will get passed by the stronger riders, but it evens out our abilities with the staggered start.  The lunch stop is at mile 36, but I come up a few miles short with neck and shoulder pain.  I got in car and realized I probably could have made it to lunch, which was a few miles up the route.  I grabbed a peanut butter and jelly sandwich and found a mechanic  to tilt my handlebars up a bit, so I won't have to lean over as much.  I got back on my bike and rode the last 40 or so miles with little pain.  We were going southwest and beginning to get close to the Gulf of Mexico.  Suddenly the temperature dropped 25 degrees as we got closer to the water.  The hills behind us now, we enter the Gulf Coast and cycle to Battleship Park, home of the USS Alabama, retired planes, helicopters and Monuments.  I cycled to my support car, the Delvin and grabbed arm warmers and another jersey to stay warm.  We had wonderful Police escorts take us through the Mobile tunnel which runs under Mobile Bay which will take 7 or 8 miles off our ride.  15 miles later we make it to our Holiday Inn, where dinner will be carried in and an evening of Casino Night sponsored by the USO.

Gulf Coast Challenge.  Day 5

This day has brought much anticipation to me and the riders.  A major cold front is coming our way and everyone is anxious!  It is going to be a brutal day.  I had other plans.  Sara Bell, Women's Initiative Ride Director of Ride2Recovery, and I are headed to Dallas for a full day and night of activities at the George W. Bush Presidential Library, home of the Bush Institute.  Being a donor in the President's Leadership Circle allows me to participate in programs at the Bush Institute.  Today's agenda is a program  on Global Women's Issues, including a graduation of 17 Bush Fellows, Tunisian women who studied for a year in their country covering influential topics such as business, education, health, law, media and politics.  Each Fellow had an American mentor who helped with their achievements.  Afterwards, Mrs. Bush spoke with pride about these empowered women.  A panel discussion followed with Alisyn Caremota from CNN, acting as the moderator.  The program ended with President Bush speaking of freedom and democracy and how important those endeavors are for Peace in the Middle East.  A fancy dinner followed, but before that, all guests had an opportunity to be in a picture with President Bush and the former First Lady.  My 15 seconds of FaceTime allowed me to remind him about Ride2Recovery and programs that help our veterans.  After dinner I met with GWB staff members who I know and shared with them my agenda, which was an invitation to join Ride2Recovery's Texas Challenge next month for dinner at Ft. Hood, are 3rd stop on our journey from Houston to Ft. Worth.  His aide Freddie Ford took notes and said he'll keep in touch.  Throughout the evening I introduced Sara Bell to all my contacts which allowed her to share her agenda, Women only Cycling events.  The evening ended quickly, because tomorrow will be a long day of flying and getting back on my bike to complete the last leg of the Gulf Coast Challenge, Slidell to New Orleans.

Gulf Coast Challenge.  Day 6

It's 6:00 in the morning, as we made our way to the airport to get back into the ride in Louisiana.   Sara Bell arranged an airport pickup in Kenner/New Orleans who drove us To the lunch stop in Slidell for the final 40 or so miles to Kenner.  We arrived at the lunch stop at Sportman's Marina, a boatyard with raised buildings on stilts along the Bayou, just as the Alpha group cyclers entered the lunch stop.  I changed into my cycling kit, of jersey and Bibb and layered up with temps in the 40, however with the sun out it felt a bit warmer.  45 minutes later, we left for the last leg on the Challenge.  Less than 2 minutes into the ride was the first of many bridges we were going to cross that day.  It required a big climb, however, with it being my first climb of the day, I handled it with ease.  The rest of the ride was enjoyable, however we did see remnants of Hurricane Katrina, houses and buildings in disrepair, ready to be torn down.  Pretty soon I could see the New Orleans skyline and I knew we were getting close.  Our route took us above the French Quarter and downtown New Orleans, a shorter route without the heavy New Orleans traffic.  I knew we were getting close with street names that are so New Orleans, Chef Menteur Highway, Gentilly Blvd., St. Bernard Ave. and West Esplanade Ave.  We arrived at the Kenner Doubletree in fine fashion with tremendous Police support, including City, County and State Police escorting us and holding back traffic so we never had to stop on our final journey.  Upon arrival were the usual hugs and congratulations to all the Challenge riders.  Room keys were passed out and we had a couple of hours to get ready for our final dinner together.  Dinner include a impromptu speech by Duane, a Viet Nam veteran who is a double leg amputee.  He proudly talked of his new life with prosthetics he's been wearing for 40 years.  He looks at his disability with open eyes and compares it to someone who wears glasses, which he considers just another disability.  He was asked to Mentor the new riders who struggle every day with their injuries, both physical and emotional.  He closes with his own story and what he's had to do to recover from the emotional wounds of war and the bad things he did.  There wasn't a dry ice in the house as he thanked everyone for listening.  Afterwards most riders called it a night, but with only one night in New Orleans, this rider and few friends were heading out for a night in the French Quarter for some drinks and oysters.

Gulf Coast Challenge. Day 7

Today's agenda included a Community Service project in City Park.  Buses took us to the Park where we met City Park volunteers, who organize service projects.  We broke up into 4 groups and proceeded to clean, paint and landscape various parts of Tad Gormley Stadium.  after two hours of work, buses took us back to the hotel to checkout and say our final good byes.  Till we ride again!!